Retirement Cruise
After retirement May 2010 we have had the possibility to sail as much and as long as we wish. As Troldand isvequipped with an AIS Class B transponder it ought to be possible to see our position in 'real time' via Vesselfinder. Try to se weather we are within range of the system here and now. The map below is showing our 'retirementcruise from 2010 to 2019. A more detailed picture and view our retirement cruise in a larger map may be found in Google Maps (opens in new window). Alternatively you can download a kmz file here; doubleclicking it makes it possible to follow us at (must be installed at your PC). These maps have markers with binuclears to indicate that there is a link to pictures and small stories from our trip (alas so far only in Danish language but friends tells us that a Google translation to English do make 'some' sense). However, we have also made some short accounts of the various stages of our cruise, illustrated by a few pictures and some observations in English (submenu below or to thr left).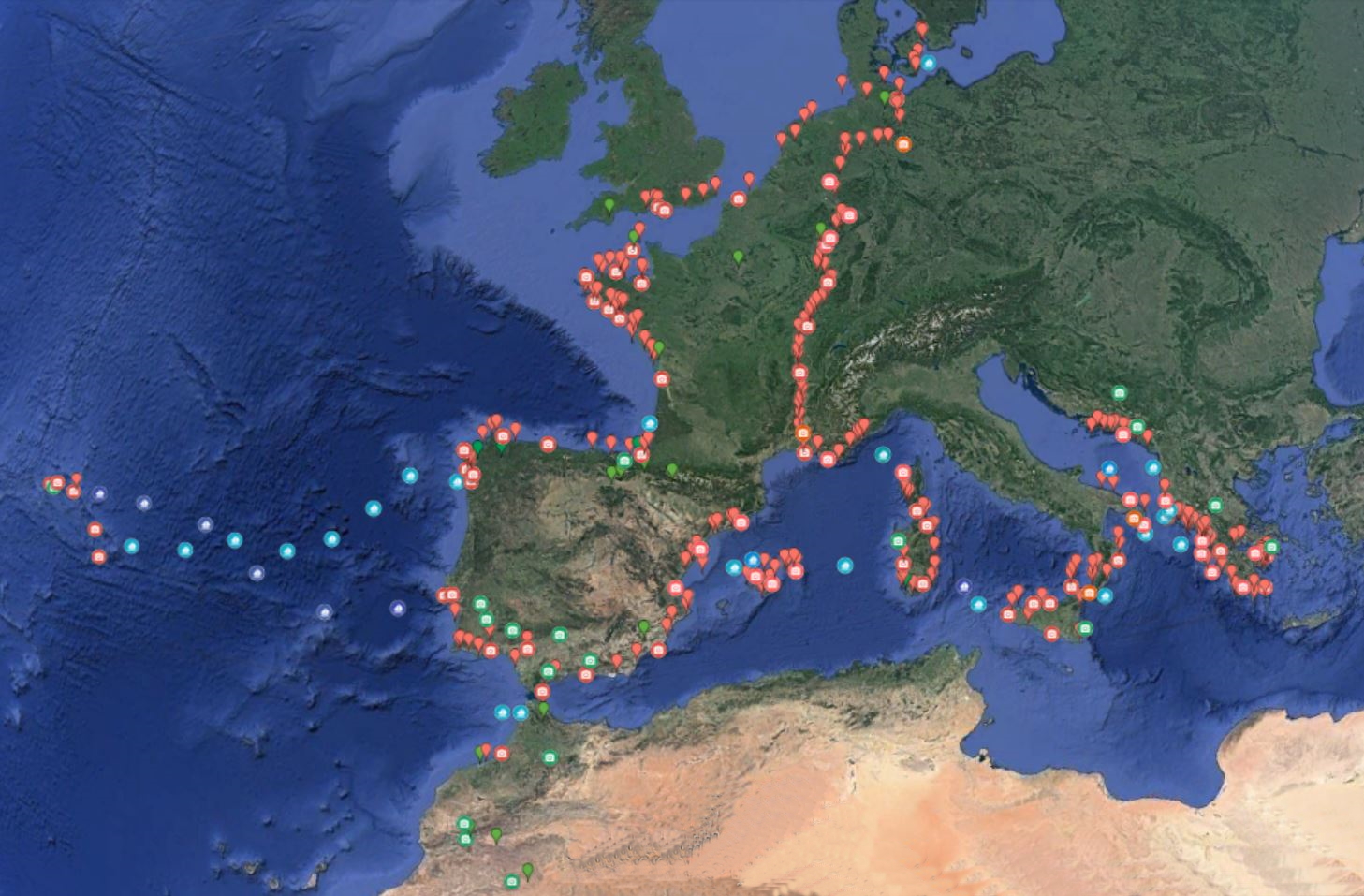 During the first (2010) year we sailed along the European coast to Galicia where we left Troldand in Viveiro. The following year (2011) was dedicated to Galicia, the Azores and southern Portugal. Winter 2011-12 was spend in Seville, which we left for Morocco late May (2012). Since then we've gone into the Med and continued towards Barcelona where we spend the winter 2012-13. Summer 2013 was dedicated to the Balearics after which we left Troldand ahore for the autumn and winter at Sant Carles.
After returning to Sant Carles mid March 2014 we continued eastwards via Mallorca, Menorca, Sardinia and Sicilia, spending the winter in the Messolonghi (Gulf of Patras). Spring and early summer of 2015 was dedicated to Albania, Montenegro and Croatia, after which we went back to Messolonghi. 2016 was dedicated is to a cruise around Peleponnes. Unfortunately due to local a 'war' (A real Greek tragedy) in Messolonghi we have had to find other options for the winter and Troldand was taken ashore at Cleopatra Marina i Preveza for thr winter.
In 2017 we decided slowly to turn westwards again. First spending early spring in the Ionian, then heading for Italy. Left Troldand in Vibo Valentia for the summer and then visiting the Aeolian Islands in the autumn and spending winter 2017-18 in Palermo. 2018 we have sailed northwards via Sardinia and Corsica to the Rhône, and in the autumn further up that river and the Saône in order to leave Troldand for the winter in Saint-Jean-de- Losne.
Finally in 2019 we completed our retirement cruise and returned to Danish waters via Canal de Vosges, Rivers Mosel and Rhine, Mittellandkanal, Elbe Seitenkanal and Elbe-Lübeckkanal. Below is a map giving the full picture from our more than 15.000 nautical miles long European cruise.