2011 (year 2)
(text and pictures from 2010), (winter in Seville), (text and pictures from 2012), (text and pictures from 2013), (text and pictures from 2014), (winter in Barcelona), (text and pictures from 2015), (text and pictures from 2016), (winter in Palermo) (text and from pictures 2017), (text og billeder fra 2018)
From Vivero via The Azores and Lisbon to Seville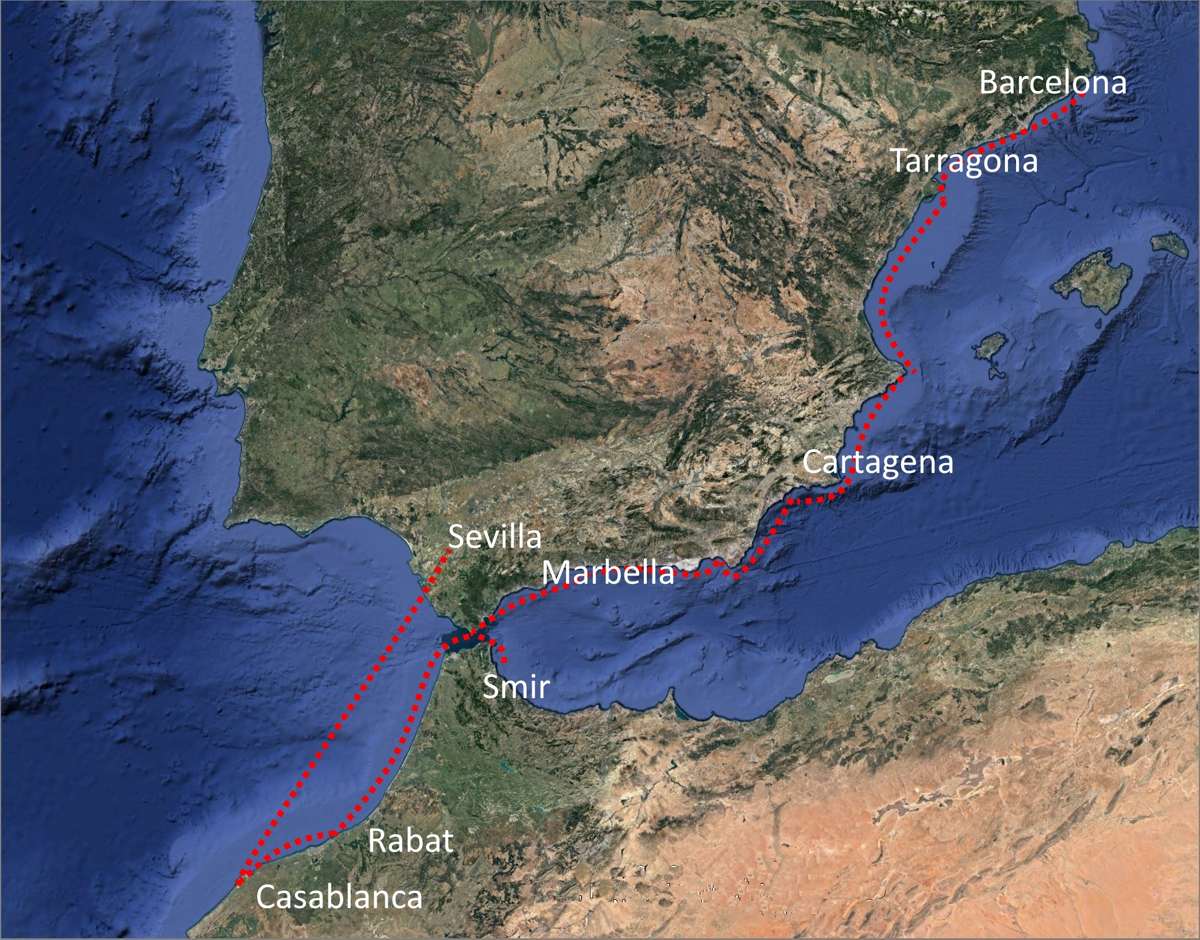 Galicia
(all video-inks opens in new window on Danish language webpage)
As planned we arrived in Viveiro mid March and by the end of the month we started the sailing season. The Rias Altas and the stretch between Viveiro and Cabo Finisterre is a pretty open cruising ground with few safe anchorages that are sometimes difficult to approach (but worth while the effort.) Contrary to this, the Rias Baixas are a well protected, beautiful and friendly cruising ground in its own right. Seen in perspective (2017) it's may be one of the places we would like to reurn to more than any other. Many protected ancorages small islands and towns with local fiestas (just look at theese two videos from Villagarcia: A hilarious Portugeese brass band and celtic bagpipes at a 'meadieval' fair).


Santa Martha de Ortiuguiera, only to be approached at HW -2 and without any swell at the entrence

Galicia equals cockles and mussels


Islas Cies, the most magnificent ancorage, be aware though, that a special permission to anchor is required

The south easternmost point of Santa Maria (Pta. do Castelo), our first landfall at The Azores


Azores and back to Portugal
(all video-inks opens in new window on Danish language webpage)
By mid June Troldand left Galicia heading for the Azores making landfall at Santa Maria some 900 nm and 7½ days from Baiona. Then two unforgettable month and visiting 6 of the 9 islands. Watching local folclore (se video from a first-communion procession at Santa Maria), lots of dolphins (se dolphin video) an a local bull runs (watch a video from a bull-run ..... and the bull isn't hurt). Returning to Lisbon (850 nm and 6 days (watch a small video from the crossing). A good week in Lisbon enjoying this beautiful city and listening to Fado music (video: Fado). Further on south to the Algarve and a couple of weeks there where the island of Culatra and the border river twoards Spain: Rio Guardiana were defenite highlights. By the end of October up the Rio Guadalquivir to Seville where we spend the next 6 month at Club Nautico Sevilla (se more text and pictures on wintering in Seville).

One of the many encounters with the merry dolphins

Bull run at a small village onTerciera



Vila do Porto on Saõ Jorge, Pico in the distance

Traffic jam at Saõ Jorge


We are leaving our 'visiting card' in Horta

Fado in the Alfma (Lisbon)

The anchorage at Alvor (Algarve)

Cortes de Cima, famous Alentejo winery
Galicia and the Azores are most certainly a places to which we would like to return some day. Very different yet similar from the point of view that they are untouched by mass tourism. The problem with the Azores of course is, that they are reasonably far away and that traditionally they are associated with few modern yachting facilities. This is not true to day though, where there are god marinas with all facilities on 7 of the nine islands (we visited 6 of them). Everybody have asked us which island we prefer: To us the combination of Saõ Jorge (nature and trekking island) and Terceira (party island) only 55 nm away is an unbeatable combination.
last update October 2017