2017 (year 8)
(text and pictures from 2010), (text and pictures from 2011), (winter in Seville), (text and pictures from 2012), (text and pictures from 2013), (text and pictures from 2014), (winter in Barcelona), (text and pictures from 2015), (text and pictures from 2016), (winter in Palermo), (text og billeder fra 2018)
From Preveza to Palermo via the Aeolean Islands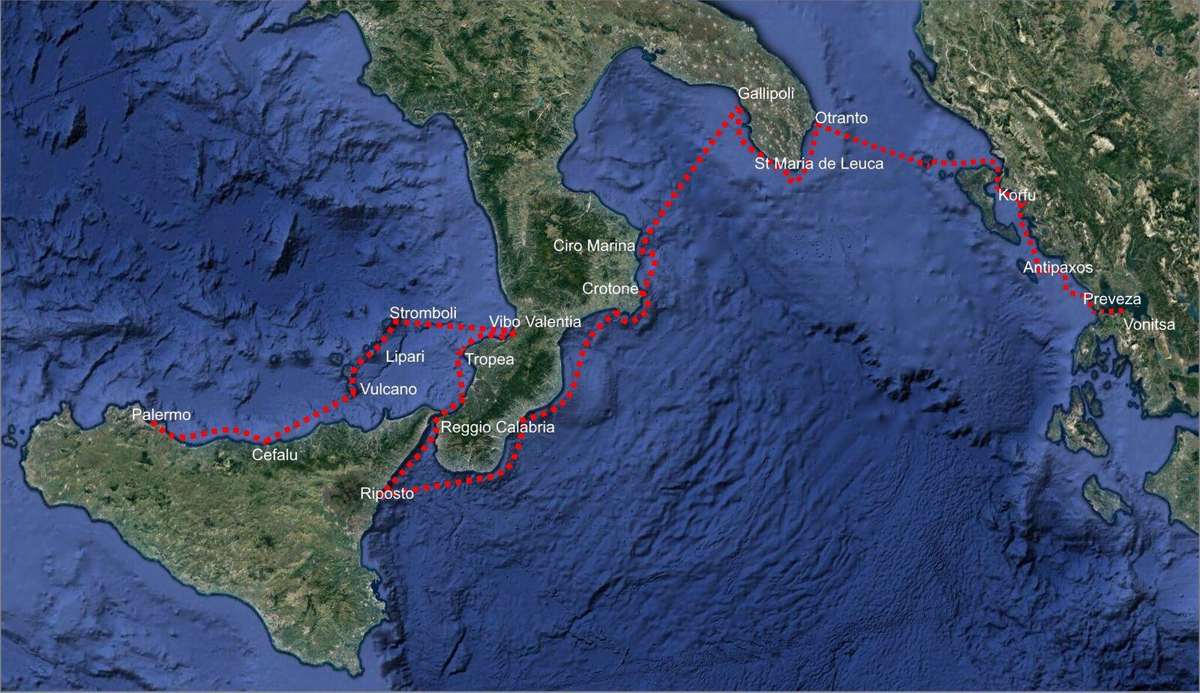 From Preveza to Orthoni:
After 7 years we have finally decided that it is time to (albeit reluctantly and slowly) turn our bow in westerly and later northerly directions. In the early spring however, we explored parts of the Ionian that we haden't visited before. Ten wonderful days in the fascinating indland sea of Amvrakikos Kolpos, where we experienced the celebration of Sct.Georges day (Sct.George is also the patron saint of horses) se the pictures below and a video from the event (opens in new window on Danish language webpages). But also a visit at the river Acheron, the ancient river Styx and gateway to the underworld (watch video, opens in new window on Danish Webpages) was a highlight not to bee missed.
Pictures from the early season in the Ionian:
| | |
| --- | --- |
| | |
| Sct. Georges day in Vonitsa, starting in the morning at the town quay | Sct. Georges day in Vonitsa, visiting friends and even the horses are invited inside |
| | |
| Sct. Georges day in Vonitsa, no Greek party without food and we (and Dutch sailors Karen and Eric from 'Hania') were invited to participate | Sct. Georges day in Vonitsa, its getting wilder (do check out the video) |
| | |
| The old romanesque church at Koronisia | The old romanesque church at Koronisia |
| | |
| Entry to river Acheron dont go there at strong onshore winds .... or Styx might live up to its reputation | A selfie with the entry to river Acheron in the background (video from the Acheron entry) |
| | |
| River Acheron at sunset | Anchorage at Paxos |
| | |
| Mandraki Marina, Corfu | Anchorage at the small island of Orthoni |
Otranto to Vibo Valentia
Via Paxos, Corfu and the small island of Othonoi to Otranto, Santa Maria de Leuca and Galippoli in Puglia. Across Golfo di Taranto to Ciro Marina. A place rarely visited and without facilities for Yachts, but nice people and fre of charge (and in Ciro they produce an excellent vin rosé). Further in Calabria to Crotone visiting 'old' friends Pino and Helena, and Le Castella a small hidden gem. Via Riposto and Reggio between Scylla and Charybdis through the the Strait of Messina and back to northern Calabria leaving Troldand in Vibo Valentia in July and August.
| | |
| --- | --- |
| | |
| Back in Italy and food from heaven (Antipasta) | ..... and Tuna with pistaccios |
| | |
| Lega navale Italiana (LNI) pontoons in Gallippoli | Town beach Gallippoli |
| | |
| Parque nationale della Sila | Parque nationale della Sila |
| | |
| Aragon fortification at Le Castella | Aragon fortification at Le Castella |
| | |
| Rochella Ionica | Riposto and Etna in the background |
| | |
| Market in Riposto (and the nice lady proved to be a professionel soprano and actually performed for us (Mozart: The Magic Flute) | Coast outside Taromina, a top tourist sestination and completely overrun |
| | |
| One of the large (2 meter high) antique boonze statues (Riace bronzes) cast around 400 bc and found outside Reggio Calabria (where they are now exhibited) in 1972 | No tidal atlas showing the currents in the Strait of Messina exists. However this website shows the intricate pattern hour by hour: http://www.correntidellostretto.it/ |
| | |
| One of the many facinating sword-fish fishing boats that you meet in the Strait of Messina | Bagnara Calabra, a suprisingly nice (relatively unknown) place to stop for a couple of days |
| | |
| Beach at Bagnara Calabra, the small marina is just behind the little tower in the back ground | Evening view from Bagnara Calabra with Stromboli in the horizon |
| | |
| Tropea, nice maina and nice city with loads of tourists | A forrest-fire very close to the marina was dealt with by the fire-brigade |
Vibo via Aeolian islands to Palermo
Back in September. Visiting four of the Aeolian Islands (Stromboli, Panarea, Lipari and Vulcano). Theese Islands are rightly famous for their geology and an extremely popular cruising (and charter) destination. We did find the islands somewhat over-exploited by tourism though, each island its speciality: Stromboli being 'Trekker Island' Panarea: 'Island of the rich and beautiful' , Vulcano 'Health and spa Island with a mud-bath and a little Yoga thrown in for good mesure'. When we were there however, weather was pretty unsetteld (we had two days of outright gale) and as safe moorings are scarce we were not tempted to stay to long and may be this has influenced our general opinion of the Islands. A small article written for the SOA Magazine no. 106 may be downloaded by following the link: Tracing Odysseus (pdf). Finally along the northern Sicilian coast to Palermo, our winter heaven.
| | |
| --- | --- |
| | |
| Stromboli village | Stromboliccio |
| | |
| Stromboli | The pier at Panarea (and Stromboli in the distant) |
| | |
| Fancy summer houses for the rich (Panarea) | Pignataro marina, Lipari |
| | |
| Amphoras at the museum on Lipari | The crater at Vulcano (Vulcano of vulcanoes) |
| | |
| Mud-bath (Vulcano) | Farewell Vulcano on a (very) early morning |

Last update October 2018