2019 (year 10)
(text and pictures from 2010), (text and pictures from 2011), (winter in Seville), (text and pictures from 2012), (text and pictures from 2013), (text and pictures from 2014), (winter in Barcelona), (text and pictures from 2015), (text and pictures from 2016), (winter in Palermo) (text and from pictures 2017), (text and pictures from 2018)

From Saint-Jesan de Losne to Copenhagen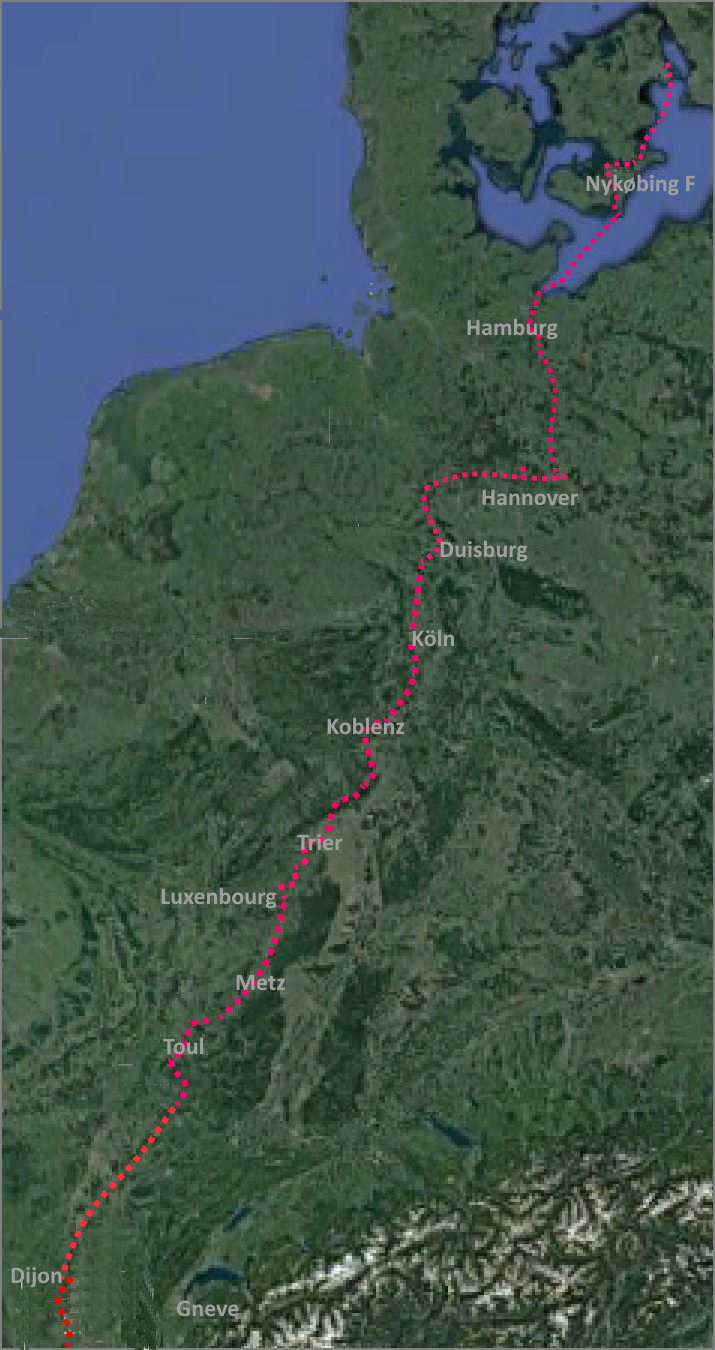 Our last season away from Danish Waters. Leaving Saint Jean de Losne mid April continuing up the Petite Saône and further through the Canal des Vosges (Canal de l'Est). Water levels in the canals were pretty low even here at spring time, and Canal des Vosges, that usually allows a draft of 1.80 m was reduced to 1.60 m (and at some stretches it was certainly less). However, with our swing-keel it did not really bother us; another Southerly advantage.


Pictures from Canal de Vosges & Moselle



Southern Canal de Vosges


Canal de Vosges lined by trees coverd with mistletoe (Viscum album)
Port de Savoyeux and just passed a tunnel (at least it was dry in there)


Upper Moselle (Mosel) and one of the many boats carrying scrap iron to the plant at Neuve Maisons
Northern France has a lot of derelict manufacturing industry
And even here the 'Yellow Wests' are active, camping along the canal
Automatic baguette-baking-machine, incredible but working.



Now in Schengen (Luxembourg) .... but then again we have been in Schengen (area) through most of our years away from home
A scheduled one week closure of the Mosel River (annual maintenance works) was spend in Konz (near Trier). This break gave us great opportunities to explore Trier the surrounding Pfalz and Saar on our Bromptons. Further on down the beautiful Mosel and Rheine to Cologne (Köln) and Duisburg.


Pictures from rivers Mosel and Rhein:

A Roman aquaduct near Pont-á-Mousson
Cathedral of Toul as seen from Moselle


Vicotry Europe (VE) Day as celebrated in Toul


It is not always easy to get diesel along the canals and our small handtruck and 3x20 l jerry-cans was in use (Toul)
Picturesque Traben Trarbach at river Mosel
Piesporter Goldtröpchen one of the famous vinyards along river Mosel
'Saar Pedal', a sunday with no cars on the road along river Saar and we got the chance to exersice our Bromptons
Saarburg which we visited on our bike-ride along the river Saar


Old harbor crane, ('Krahn') on the banks of the river Mosel, Trier
Trier


White aspargus at the market in Trier, a true 'delicatessens'
Trier is the birth place of Karl Marx and he is 'honered' at the traffic lights
'Deutches Eck' where river Mosel confluence with the Rhein (overlooked by Kaiser Wilhelm I)
Fortunately our further trip was down-streem the Rhein (current 3-3½ knots)


Leaving Köln with the impressive Chthedral (Dohm) in the background
The further south the Rheine the more heavy manufacturing industry
After the beautifull Mosel and powerfull Rheine on to the German canals systems: Ie. the more tedious strech on the Rhein-Herne-, Dortmund-Ems, Mittelland- and Elbe Seitenkanal to the river Elbe. And finally via Elbe-Lübeck-kanal to the Baltic where we spend some days in the beautiful old 'Hansa' town of Lübeck. Finally the last 10 nm to Travemünde where we were united with mast and rig and back in Baltic waters after almost 10 years.


Pictures from German canals: Rhein to Lübeck:

Safty lock ('Sicherheitstohr') making it possible to shut off individual sections of the canal systrm
This must be the absolutely most uninteressting canal in Germany: The 'Elbe Seitenkanal'
The 'Hebewerk' (Boat-lift) at the canal museum in Datteln

Boat lift of 38 meters at Lüneburg Scharnebeck where the Elbe Seitenkanal reach river Elbe
The famous medieval town gate of Lübeck
The old town Hall, Lübeck


A replica of a Hansa Kogge, the type of vessel that was the means of the trade of the Hansa leage
Travemünde some 10 nm north of Lübeck is an important ferry port


Our mast,rigging and sails had (of course) safely arrived at Böbs Werft (yard) in Travemünde
Re-rigging Troldand with the help of Böebs competent crew


Last update August 2019